"I Don't Want to Hear About the Labor ... Show Me the Baby!"
April 11, 2013
Terry Vaughan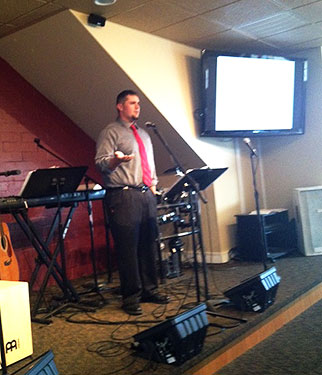 Perhaps its was appropriate that the old Firehouse on Jefferson Street was the setting for Coach Steve Reynolds address to the folks at First United Methodist Church last Wednesday evening.

Heavy on the fire. Ample dose of brimstone.

The Right Reverend of Tornado Football provided a stem-winding overview of his philosphy regarding the development of his program. As he wrapped up his inspiring remarks-I was ready to summon my half-a century-plus old body to the practice fields to attack the blocking sled.

Steve confessed that prior to becoming a Head Coach, winning games was his primary obsession. Now that he is responsible for an entire program, the development of his players has become priority one. Physically. Emotionally. Spiritually.

He says that if he can help mold young men into becoming great fathers and community leaders, he will gain the most satisfaction. If they can win some championships along the journey-even better.

Excuses? Better check them in your locker. No place for them among those who wear the Scarlet and Gray.

He emphasizes process over results. Make sure you plan the route properly and the destination will arrive soon enough.

Complainers and whiners don't contribute to the formula.

"I don't want to hear about the labor...show me the baby!" he jokingly proclaimed.

The team motto? "Find a Way!"

By the time his 40 minutes were over, the congregation (which included lots of youth) provided a rousing applause. No offering was taken but I suspect the plates would have been filled to the brim.

Everyone present had to feel that the right guy is stationed in the BHS pulpit.

And-Heaven forbid-if that winning thing doesn't pan out and Coach Reynolds career as a football coach comes to an end-there is good news and alternative options.

He would make one heck of an Evangelist.