Legends of the Fall Now Share Team Colors
July 14, 2014
Terry Vaughan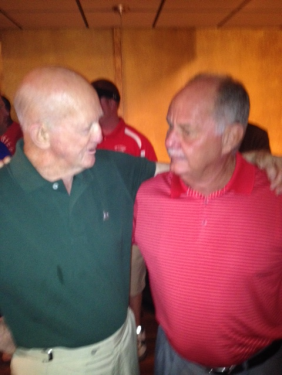 Their careers span from Ike to Obama. Together they represent more than 70 years of Coaching and over 450 victories. They once relished the opportunity to match wits on the gridiron.
Now they're on the same team.
Friday night was a festive occasion as the Bradford community welcomed new Head Coach Corey Green during a Meet and Greet at the Downtown Grill. The latest Coach to wear the hat was well received as a large crowd of Tornado fans enjoyed the chance to get to know the former Assistant Head Coach at Fleming Island. Many former players were in attendance. All left feeling that the program was in good hands.
While hands joined together in consistent applause, most eyeballs were glued to two gentlemen who have earned legendary status in the history of high school football in Northeast Florida. It was difficult not to stare as these two grizzled veterans embraced each other and exchanged stories.
David Hurse and Danny Green were the Lee and Grants of their day. Generals who left no stone unturned as they prepped for battle against each other when they led the Tornado and Baker County Wildcat program for so many memorable years. This was a rivalry with maximum intensity. They were fierce competitors who left in all on the field when they met-except for the respect they shared for each other.
Imagine Hayes and Schembechler wearing the same colors. Bear and Shug together breaking down film. Danny Green now plans to exit retirement to help his son on the Tornado staff and Coach Hurse remains available when advice is needed. The institutional knowledge that can be shared is mind numbing.
It conjures up the memory of a famous line from the hit movie "Ghostbusters". Bill Murray-in the role of Dr. Peter Venkman -told authoriities he feared apocolyptic consequences when he uttered: "Dogs and cats living together-mass hysteria!"
Actually, it felt like all was right with the world as a wiley old dog and crafty cat shook hands. Now on the same team, they may be able to join forces and revive the ghosts of victories past.