Ready to Turn Out the Lights
July 10, 2015
Terry Vaughan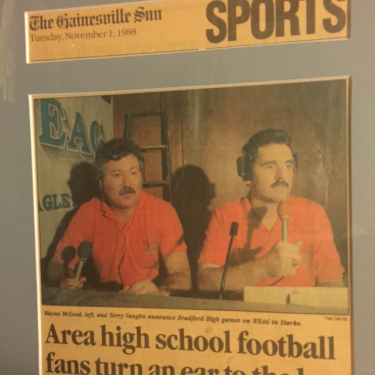 Perhaps an apology to Howard Cosell and Dandy Don is way overdue.
As a kid, I would take my $20 Radio Shack tape recorder and sit in front of the TV during the Monday Night Football broadcasts. Turning down the sound (back when you actually had to twist a knob on the set), I would perform my own play-by-play of the action and capture the outcome on my recorder. "It would be great to be a real sports announcer" was the thought that danced in my young head.
Fast forward to a time when big hair was the rage, Ronald Reagan was beginning a 2nd term, and New Coke hit the market with a thud. Just three years removed from college, I was living the dream. In 1985 I was named the new play-by-play voice of Tornado Football. Bradford made it all the way to the state championship game that season and I just assumed that this would be the norm.
Not sure what Ben and Ruth Dickerson-the new owners of WEAG radio-saw in me to think I could do the job. But I will be eternally grateful for the opportunity.
30 seasons later I can recall all of the long drives, bad weather, and technical difficulties that go with the gig, but the excitement and fond memories of well over 300 BHS broadcasts greatly outweigh the inconveniences.
And as I prepare to embark on my 31st season as 'Voice of the Tornadoes", I get misty eyed knowing it will be my last. All great things come to an end and the demands of my primary job have made it more and more challenging to commit the time and effort it takes to produce a good broadcast. Last year as I recall, I broadcast a game from Wakulla some 4 1/2 hours away, only to have Early Voting responsibilities at 8 am the next morning. The football gods did me no favors by placing football and election seasons in the same window of time. If the good citizens of Bradford County will have me, I hope to continue service as Supervisor of Elections for another couple of terms and I certainly want to continue making those responsibilities my priority.
So, I am ready for the final ride-and I know it is going to be fun! So many good folk have helped with the broadcasts through the years. Lyn Kramer (Feliz) is a fabulous producer.Ben Dickerson was my first engineer. Guys like Harry Hatcher, Mike Hartley, Wayne McLeod, and others have served as Color Commentators. Rick Cragg has been my sidekick for nearly 20 years and has been a loyal friend to the broadcasts.
For several years now, I have described the action of players who have dads that played when I first started. The relationships that have been developed because of my time behind the mike will be cherished the rest of my life.
It is too bad that I had the sound turned down for those Monday Night Football games, because I couldn't hear Dandy Don when he would sing "Turn Out the Lights, the Party is Over" at the end of each broadcast. This Fall I know the lights will dim and the party will be over at season's end. But what a party it has been. Thank you for allowing me to live a dream and be a part of your Fall Friday night routine for these past 3 decades.