Tornadoes Show True Grit in Opening Win
August 29, 2015
Terry Vaughan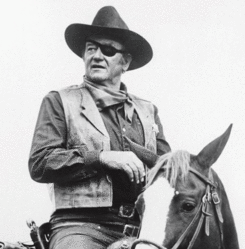 Many said it could not be done. Neil Armstrong proved them wrong in 1969 by setting foot on the lunar surface, fulfilling John Kennedy's pledge to send an American to the moon by decade's end.
That same year a Hollywood legend who many thought was stuck on the launch pad proved he still had plenty left in the tank.
John Wayne captured an Academy Award nomination for his role in the classic western True Grit. The Duke was Rooster Cogburn, an aging "one-eyed fat man" with a tendency toward hard liquor and a reputation for being washed up. Fourteen year old Mattie Ross saw something in Rooster that convinced her he was the right man to hire to avenge her father's murder. She called it 'true grit."
Following a rather dismal 1-9 season in 2014, many may have written off the Bradford High Tornadoes as they took the field in the 2015 season opener against a talented Cedar Creek Christian squad. When the Saints marched in a game-tying touchdown just before the half and with their horse (star Tornado tailback Aundre Carter) parked in the corral with a bum shoulder, some probably felt that Bradford was backed into a alley with no where to go.
That is when the Tornadoes true grit was placed on display. Rooster ain't done yet.
With bit in mouth and guns a'blazin', Bradford dominated the 2nd half, scoring 24 unanswered points en route to a 38-14 victory. This team vaguely resembles the 2014 version, playing with a greater confidence and swagger. Coach Corey Green's casting call for new blood on his staff has helped to reinvigorate and reinvent this squad.
In a memorable scene, Mattie watches Cogburn load his revolver and asks why he kept one chamber empty.
" So I won't shoot my foot off" was the Rooster's blunt retort.
The 2015 Tornado football team may not be fully loaded, but the grit they showed Friday night just might indicate they have enough ammunition to be dangerous all season long.