Learning to Drive
September 13, 2015
Terry Vaughan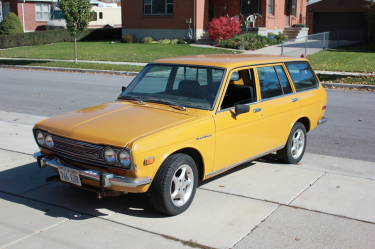 On Saturday I was tasked with providing a eulogy during the funeral service for my dear Mother. Many came up to me afterward and told me they could not have pulled it together and done such a thing.
While the occasion very sad and somber, I was very prepared for the moment. For eulogies are not captured on paper or spoken by word-they are lived by the way we treat others and serve our Creator. Momma's eulogy was 77 years in the making and her contributions were evident.
The other reason I was ready to tackle this reponsibility? Momma had taught me from a young age to face challenges head on. You never learn to swim if you are unwilling to ever dip your toe into the water.
One such lesson remains vivid in my memory. Momma was driving our 1971 Datsun station wagon (putrid mustard colored, by the way) down busy Monroe Street in Tallahassee when we stopped at a red light. She turned to me and said "Terry, now's a good time for you to get some experience behind the wheel. Lets change places."
For a 15 year old kid, this was music to my ears. So I quickly exited my passenger seat and plopped down in the driver's spot my Mom had just vacated.
The light turned green and I punched the gas pedal. But for some unknown reason, I panicked. We were obtaining a fairly high rate of speed and another red light was just ahead with traffic stopped in front. In my frozen state of mind, I failed to utilize that all- important device located in the middle of the floorboard-the brake pedal. With a crash impending, Momma somehow reached over with her left foot and slammed on the brakes for me. There was burnt rubber and a loud screeching sound. Embarassed and humiliated, I got out of the car in front of confused and agitated drivers behind us and gave Momma back control of the vehicle.
Lesson learned. Never wanting a repeat performance, I quickly grasped how to handle a vehicle in all kinds of conditions and not let the moment overwhelm me. My desire to learn to drive outweighed my fear of crashing.
In 2014 the Tornadoes were not comfortable with the wheel in their hands. Lots of heavy traffic. Potholes. Big trucks in the path. The experience was painful down the road travelled during that 1-9 season, and I don't think the team relished a repeat performance. Corey Green slammed the brakes on 2014 and provided a clear vision of the road ahead by bringing in new coaches and demanding a renewed commitment to off season conditioning.
Lets race ahead to September 11, 2015. Taylor County was coming to Starke, having already defeated state runner-up Hamiliton and giving perennial power Dixie County all they could handle. All 5 of the Gainesville Sun prep experts predicted a Bulldog victory.
Down 20-13 in the 3rd quarter, Bradford faced their moment in the intersection and encountered a dilemma. Was it time to focus on the rear-view mirror or the windshield ahead? Bail from our seat or find a way to navigate through the traffic?
A tying touchdown soon was put on the board. And with less than a minute to play, a game winning field goal was kicked right down the middle of Highway 301. Bradford 23, Taylor 20.
Sometimes a team has to get over the fear of losing and find a way to win. For the 2015 Bradford High Tornadoes this past Friday, just maybe they firmly grabbed the wheel and turned the corner.