Shooting First and Making it Count
September 27, 2015
Terry Vaughan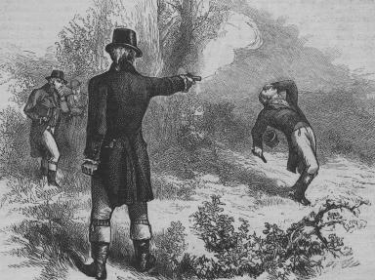 Long before Mr. Hatfield and Mr. McCoy helped to fuel the nation's most famous rivalry, there was Burr and Hamilton. Lets just say that the two never exchanged Christmas cards.
Alexander Hamilton was one of our founding fathers and served as the first Secretary of the Treasury under Washington. When Tommy Jefferson and Aaron Burr remained tied in the Electoral College following the Presidential contest of 1800, it was Hamilton who was instrumental in breaking the stalemate in Jefferson's favor.
Hamilton was obviously a 'burr' under Aaron's saddle. When Hamilton publically questioned Burr's character when Aaron was running for Governor of New York four years later, it was "on like donkey kong". Burr challenged Hamilton to a duel in defense of his honor. Hamilton accepted.
The much ballyhooed celebrity death match took place on the banks of the Hudson River on July 11, 1804. The proud Hamilton refused to brandish a pistol offered by a friend designed with a hairpin trigger, opting to utilize a much older weapon.
Paces were nervously taken and the two adversaries turned to face each other. Shots were fired and the air was filled with smoke and screams of agony. Hamilton had taken a bullet to his abdomen and the projectile lodged in his spine, causing paralysis. Hamilton was mortally wounded and dies the next day.
Hamilton County is named after this great American and no doubt the high school in Jasper felt like their honor was being challenged this football season. After all, just a year removed from a state runner-up season, the Trojans walked into David Hurse Stadium Friday with with an 0-4 record. Most figured it would be a one-sided duel.
Unlike the guy who the school was named after, these Trojans elected to shoot first and make it count. In a pivotal chain of events and within a matter of seconds, the Tornadoes went from possessing the ball in the Hamilton redzone to falling behind 16-0. Hamilton broke out some new formations, choosing not to stick to their old weapons. This time, Hamilton shot first and made it count. Bradford was mortally wounded and never recovered-losing 16-6.
Bradford can not afford to allow this wound to cause paralysis, as the most pivotal showdown in the 2015 season lies ahead this Friday in Alachua. Santa Fe will be the host, and the one left standing will be able to take aim on a district championship.
It will be a much ballyhooed duel with lots at stake. For Bradford to win, they will need to find a few new weapons, shoot first, and make it count.