Bradford Must Get Back in the Saddle
October 4, 2015
Terry Vaughan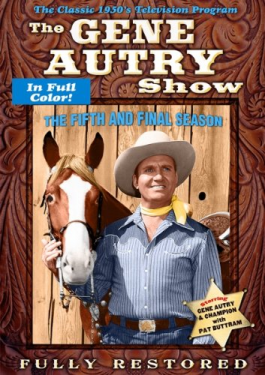 Orvon Grover Autry was an American treasure. One of our original "cowboys", Gene Autry is the only person to be awarded a Star on the Hollywood Walk of Fame based on contributions in all 5 categories in which a candidate could be considered: film, TV, radio, music, and live performance.
Best known for lending his voice to holiday classics such as "Here Comes Santa Claus" and "Rudolph the Red Nosed Reindeer", Autry was dubbed 'The Singing Cowboy". His TV show-set in the old west- was sponsored by Wrigley's Doublemint Chewing Gum and was a staple of the golden era of television.
One of the TV episodes, which originally aired July 6, 1954 was entitled "Santa Fe Raiders." The plot involved an effort by Gene to help an old friend get a wagonload of freight over the Santa Fe Trail to San Dimas. Much calamity ensues. Gene's friend is murdered, bandits attack the team, and Autry is held up and taken prisoner.
Just when all seemed lost, the hero and his sidekick (brilliantly played by veteran character actor Pat Buttram) concoct a way to escape from their captors and the bad guys ended up in jail. Nothing like a a happy ending!
Friday night the Bradford Tornadoes attempted to cross the Santa Fe Trail with the knowledge that the freight they carried could bring them a District Crown if successful. The Raiders of Santa Fe ambushed the Tornadoes and took an early 13-0 advantage. Bradford fought valiantly but didn't have enough firepower to hold off the assault. Raiders 42, Tornadoes 6. Where was Pat Buttram when you needed him?
6 games into the season, Bradford finds itself at 3-3 and 1-1 in District play. Yes, they were knocked off the horse they rode into Alachua Friday evening, but like Gene Autry-they must pick themselves up, dust themselves off, and get back in the saddle again.
4 winnable games are left in the regular season, and a playoff berth can still be captured.
Don't forget about the subject of Gene's signature song. Rudolph wasn't exactly riding high and was the object of ridicule among his fellow reindeer. But when adversity struck-Rudolph pounced and led his team to new heights.
Can Bradford "Go down in history?"
If the Tornadoes can rebound from a 1-9 season in 2014 and end up with a winning record and a postseason reservation, history will indeed fondly remember this squad.