Playoffs??? You Kiddin' Me?
November 1, 2015
Terry Vaughan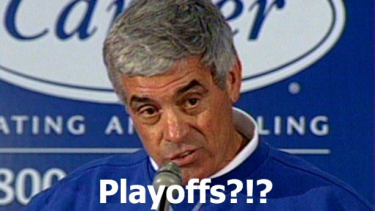 Following a tough loss in 2001, a brave reporter asked Indianapolis Colts Head Coach Jim Mora if his team could still make the playoffs.
Mora's animated response remains one of the most repeated media clips of all-time.
"Playoffs??? Don't talk about playoffs! Playoffs ?!! You Kiddin' me?"
Following a challenging 1-9 season in 2014, no one would have fathomed such a question when approaching Bradford Coach Corey Green. Heck, just a few more wins in 2015 would have been a nice development. But following a dominating 42-0 district victory over Interlachen last Friday, the Tornadoes have indeed achieved the unthinkable.
Bradford is 6-3 and will represent the district as runner-up for a playoff contest at Dunnellon on November 13. Seems my tenure as Voice of Tornado Football on Eagle Country 106.3 will be extended by at least one game!
But before Bradford can turn full attention to their playoff task, they must wrap up the regular season schedule this Friday at home against Crescent City.
Hopefully, Tornado fans will fill the stands and show their appreciation for a team that picked itself up, dusted itself off, and completed a major turnaround.
"Playoffs..you kiddin me?" It's no joke. In less than a year, the Tornadoes have gone from being a punchline to punching their ticket to postseason play.
Somewhere Jim Mora is smiling.