TAYLOR COUNTY BULLDOGS TAKES A THIRD BITE OUT OF THE TORNADOES
September 3, 2018
David Rodgers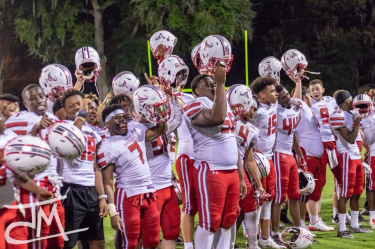 Taylor County Bulldogs Takes A Bite Out of Tornadoes for Third Straight Season Opening Victory
Good Evening Tornado Nation and Fans, this is Mr. Friday Night David Rodgers Voice and Play by Play Announcer for your Bradford Tornadoes bring you this First Edition of the WEAG Eagle Country 106.3 Blog Tornado Football 2018.
Well it was not a good start to the 2018 Season as we were on the road to take on the Taylor County Bulldogs opening with them for the 3rd straight year and after a tough fought game the Young Tornadoes showed their youth and inexperienced as the Bulldogs scored just enough points to shut out the Tornadoes 10-0 and hand the Tornadoes another opening season loss and the 3rd straight to Taylor County.
Taylor County did not do much on offense either but scores on a 31 yard drive after the Tornadoes went for it on 4th Down and 6 and gained 5 yards and turned the ball over on downs and aided by penalties and a sustained drive SR QB Decaroian Bellamy handed the ball off to his SR RB Buddy McGrew and ran off right tackle for a 7 yard TD and then Bellamy kept it off right tackle again for the 2 point conversion for and 8-0 lead. On the next possession the Tornadoes got pinned deep in their territory as the Bulldog Defense man- handled our young offensive line all night forcing the Tornadoes to punt the ball from their 10-yard line and with a bad snap over the punter's head it was recovered by the Tornadoes in the end zone for the safety and making the score 10-0.
The Tornadoes could only muster 191 yards of total offense and could never get anything established and sustained on any drives as SR RB Jeremiah Vaughan could never break loose any runs short or long runs and with the up tempo offense and RPO packages that we run our QBS Soph Pedro Carter and SR QB Adrian Cena could not get time to throw the ball and was mainly scrambling all night to get some positive yards.
There was a bright spot as the Tornado Defense for the most part held the Bulldogs in check all night. The Bulldogs drove the ball down inside the Tornadoes 10-yard line 4 different times and they could only muster up those 10 points as the defense did their job all night. Kudos to the Defense! The Beef O Brady's Player of the game goes to JR LB / DE Gabe Cook with several great tackles to help this defense bottle up the explosive Taylor County Offense.
Now the Tornadoes are 0-1 in the early season and they look to rebound this upcoming week as the explosive and well-balanced team the 1-0 Baldwin Indians will come calling to David Hurse Stadium in Starke looking to knock off the Tornadoes that have beat them for 3 straight seasons. So, something will have to give in this Game. So Please Come Out and Support Your Tornadoes Live but if you cannot you can catch all the Live Action with the Play By Play and Color Commentary with Mr. Friday Night David Rodgers and Color Commentator Big Kevin Howe and The State's Best Producing Team Chuck Kramer, Lyn Veliz, and Mark Kramer with the Pregame Show at 715 and Kickoff at 730 and you can catch it all on WEAG Eagle Country 106.3