TORNADOES SCALPED BY BALDWIN INDIANS
September 3, 2018
David Rodgers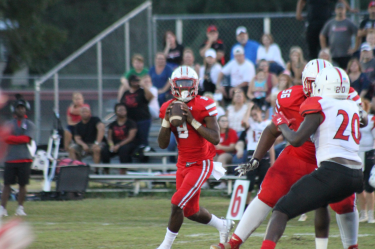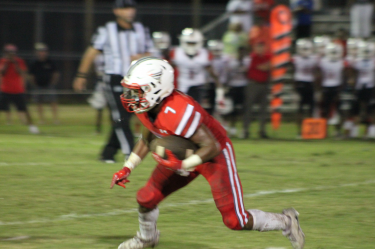 Baldwin Indians Scalp the Tornadoes for Second Straight Loss 38-14
Good Evening Tornado Nation and Fans, this is Mr. Friday Night David Rodgers Voice and Play by Play Announcer for your Bradford Tornadoes bringing you this Edition of the WEAG Eagle Country 106.3 Blog for Tornado Football 2018.
The Season Home Opener for the Bradford Tornadoes did not go so well as a very good and talented Baldwin Indians Football Team came into David Hurse Stadium and scalped our Tornadoes 38-14 to hand the young Tornadoes their Second Straight Loss of the Season and now have to regroup as the 1-1 Keystone Heights Indians come to invade David Hurse Stadium and catch our Tornadoes on a low point and try to come out of Starke with a Big Win, but I believe with a good week of practice our Great Coaching Staff led by the Class 4A State Coach of the Year Brian Tomlinson we should put together a Great Game Plan to beat Keystone this coming Friday Night.
The Baldwin Indians came into David Hurse Stadium with a Senior Laden Team, a Team that Kevin and I have been watching for 3 Years Now and their youth is now grown up and have become big time play makers for this team. It all starts with SR QB and Trigger Man Gavin Screws who went 13-18 for 228 Yards and 2 long TD Passes to SR WR Christian Sanderson one a 74 yarder and the other one for 60 yards to take a quick 14 -0 lead and the Tornadoes could never put anything together with the exception when the score was 24-0 right before the half SR QB Adrian Cena threw a beautiful pass for a TD to Soph. WR Austin Lovell for 8 Yards with no time left in the half but could get no closer than that. It took 6 Quarters for the Young Tornadoes to finally put the first points of the young season up on the scoreboard.
In the Second Half the Tornadoes tried to make a comeback but it was too little to late for Bradford as we did score again a 34-yard strike from Cena to Lovell again to cut the deficit to 24-14 but Baldwin flexed its muscle and score two more times one a 35-yard interception return for a TD and eventually put away Bradford for the Final Score of 38-14. The Beef o Brady's Player of the Game was Soph. WR Austin Lovell 3 Rec. 75 yards and 2 TD'S. Congratulations Austin!
Now the Keystone Heights Indians come rolling into David Hurse Stadium licking their wounds as PK Yonge took it to the Indians 48-14 as they come in with a 1-1 record and the Tornadoes are looking to get their first win of the season. So, Tornado Nation Fans Everywhere we need you to come out and fill David Hurse Stadium to the hilt Friday Night Sept 7th Live but if you cannot make it to the Game We have you covered if you are out of town and cannot make it to the game and are not listening in on the Radio Broadcast you can go FB Live and can catch the Radio Broadcast Pregame Show @715 and Kickoff @730 Right on WEAG Eagle Country 106.3